Career Training for Professional Artists
How to protect your studio time, unlock new career opportunities & multiply your art network - without compromising your art's integrity
Watch Promo
Professional artists create opportunities.
Amateurs hope to be "discovered".
TheArtMBA is a world-class 12-week interactive video-based training program that teaches A to Z entrepreneurial strategies to emerging artists who want to master their creative productivity, multiply their opportunities, level up their visibility and feel supported.
Have you ever put all your dedication, hope and enthusiasm in an application for a gallery, exhibition or artist residency - only to be rejected - and see a less talented artist get the opportunity?

Have you ever set aside a day for painting in the studio - only to find yourself procrastinating, without a clear structure - finally giving up to do "research" but actually wondering why is it so difficult to be disciplined by yourself?

Have you ever put in so much energy into producing your artwork that when it comes to selling it you either don't have energy left or don't know what is the next step and are not even motivated to learn how to do it?

---
Most artists still haven't figured out how to balance being & doing. How to balance making art & making things happen in the so called "real world". There is a very common myth in the art world:
"Artists are bad at doing business, and those that are good, are bad at making art"
The truth is if you don't get good at the business of art, then you may end up doing business far away from art. Picasso, Dali and Whistler knew this - Van Gogh did not. There is no artist and no entrepreneur that gets into their hero's journey because it is easy.
It is not easy.
Sometimes you feel lost, isolated, misunderstood. Sometimes you may ask yourself "is it worth it?" You may worry that if you don't take the time to find your audience... perhaps you are just making art for yourself, your friends and family.
It would be much easier to fall back into the secure path, what society is telling you to do.
Yes, the artist journey is deeply meaningful - but it is hard.
However...
You don't need to make it harder than it is.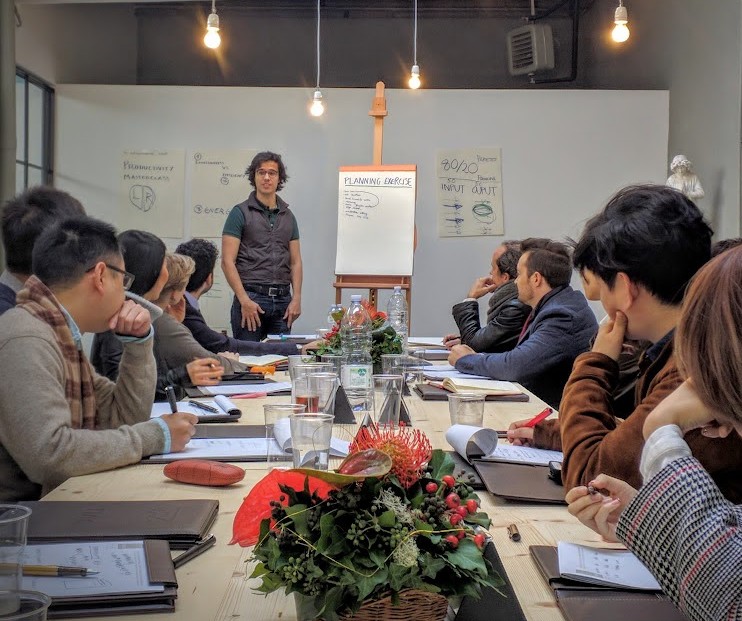 Entrepreneurs are the artists, the creators, the makers of the business world.
And there are proven methods developed by world class entrepeneurs:
proven thinking tools, strategies, mindsets and techniques...
...that you can utilize to navigate your journey of uncertainty.
Artist friends have been asking me for advice, to speak, to run workshops on these topics.
So I've decided to design a full training program with everything you need to know.
There are 4 areas you need to master in this rapidly changing world:
Optimizing your time & energy to become a productive artist

Identifying opportunity around you while making rejection (almost) painless

Finding your audience and getting visibility so your artwork is noticed and sold

Cultivating emotional resilience by nurturing a lifelong support community
If you don't cover all four areas you stand a low chance of having a long term sustainable artist journey.
Introducing, The Art MBA
.
Your Instructor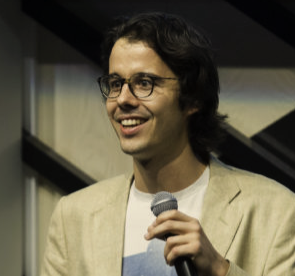 Hi there, I'm Miguel Mayher and I'm the creator of The Art MBA.
I've spent more than a decade combining Arts & Entrepreneurship, from studying to experimenting on my own how to balance being & doing. This course is the culmination of all that work.
---
Here is a bit more about my background:
What will you learn?
I'd like to explain what you are going to learn in this online program and how it is going to change your life:
The 3 reasons people start on their artist journey, and why 2 of them are a recipe for disappointment.
The 4 step formula to face any problem or goal, so you can go from being stuck and confused, to having clarity and taking action.
The 9 mindsets that will allow you to identify opportunity around you and capture it like an entrepreneur.
The 4 approaches to multiply opportunity around you - starting with what you already have at reach.
How to address limiting beliefs such as "this is business, but I'm an artist"
How to turn the fear of being rejected and your self-doubt into a source of information and long term advantage
When can an entrepeneurial mindset help you - and when can it hurt you.
How to build a platform of potential collectors who are happy to hear from you.
How to use technology so you can stay in touch with as many people as you want with minimal time and effort - without using the distraction that is social media.
How to go from feeling misunderstood and losing faith in yourself because you wonder if you are not going to make it - to cultivating a meaningful support community that turns the artistic journey from me to we.
The next 20 years are going to be full of CHANGE. In particular, technology is accelerating. Today is the slowest pace of change you are going to see. Because every day after today the pace is getting faster.
Your ability to adapt and create new opportunities is what will make your artist journey sustainable.
Knowledge and skills can get outdated fast, but resourcefulness will always serve you.
This is a complete training on how to be a flourishing long-term artist, not just today.

You are going to learn how to take ownership of your artist career.
Beautifully & thoughtfully crafted for busy artists.
The Art MBA training materials are released weekly for 4 weeks in a row and consist of professionally recorded videos, a private forum to connect with others and a weekly webinar call to address questions.
47 high-quality video lessons, broken up into sharply focused modules. The Art MBA puts everything together in one, easy-to-understand program.

Private 24x7 forum, available anytime for the duration of the 30 day course, allows to share your doubts and ideas with likeminded artists with a growth mindset.

Unlimited access to the course. Watch any time and on any device. Revisit lessons whenever you want. Access available for as long as the course exists.
100% money-back guarantee. If you don't love it, I'll refund you. It's as simple as that.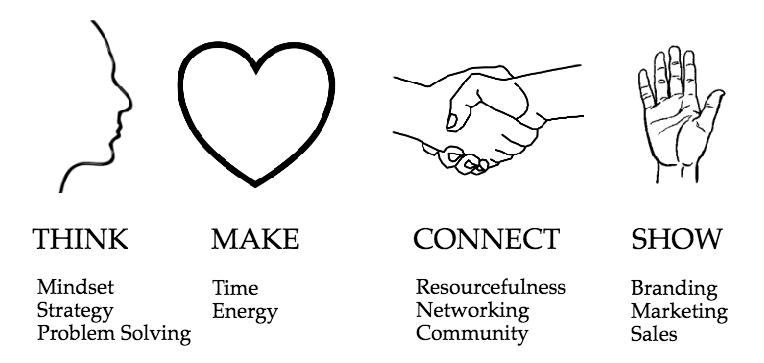 Course Curriculum
PRIVATE COMMUNITY CHAT
Available in days
days after you enroll
READ ME FIRST
Available in days
days after you enroll
MODULE 0: GETTING STARTED
Available in days
days after you enroll
Get tangible results through 3 action workshops
Get Unstuck: one big challenge that is paralysing you broken down into actionable steps
Get Time: find & schedule your daily, weekly, quarterly art-making "protected time"

Get Clarity: your artist elevator pitch based on your top 3 values & what your art stands for
"Practical and mindful information of how to run artistic business as an independent artist. Thank you very much Miguel, so looking forward to next session!"
- Written feedback from workshop attendee
Each of the 47 lessons delivers a key insight in 5 minutes
The format of the program is 47 professionally recorded videos.
With advice you can put into action through specific exercise instructions.
I cut out all the business "fluff" and went straight to what is relevant to you as an artist.
It is a reference library of insights that you will go back to over and over again.
There is really nothing like this training in the Art world, that is why I was asked to create it:
To get the productivity skills to produce your best art,

To create opportunities around you so your art can see the light,

And to develop emotional resilience for the long term, aligned with your values.

Get a sneak peak inside the course with the sample lesson below.
Each of the 47 lessons in the course is similar to this...

Sponsored by The International Arts & Culture Group
The International Arts & Culture Group (TIAC) is a community of professionals devoted to the arts.

TIAC champions, develops and invests in artistic and cultural programs that create and enrich artistic careers and educational opportunities.

The Art MBA was born thanks to TIAC's generous support.

You can learn more about their work here.
Frequently Asked Questions
When does the course start and finish?
The course starts Monday Juy 16th and finishes Sunday August 12th 2018. However you will continue to have access to all lessons after the course is over.
How long do I have access to the course?
After enrolling, you have unlimited access to this course for as long the course is available - across any and all devices you own.
What if I am unhappy with the course?
We would never want you to be unhappy! If you are unsatisfied with your purchase, contact us in the first 30 days and we will give you a full refund.
The bottom line: Give yourself 10 minutes a day for 30 days, and I'll teach you strategies that last a lifetime.
This course packs in a lot of value in a short amount of time.
Each lesson is around five minutes, which means you can watch & learn two lessons per day in just 10 minutes.
To get results you need to take action. Add 10 minutes per day for the course exercises, and you will be getting insights and results as you go through the course.
If you decide to make the most out of the course by engaging in the 3 workshops to get results and real time feedback, add an extra 60 to 90min per week.
Bottom Line: I'll teach you entrepreneurial skills that will benefit you for the rest of lifelong artist journey.

T

his is the one program you need to learn how to navigate your artist journey.
This course is not open for enrollment.